Parijat Controlware Inc. was established in 1989 with the aim of focusing on solutions for PAC, PLC, DCS, automation in engineering, process industries and development of Microsoft HMI/SCADA, non-Microsoft 3rd party HMI/SCADA. For the last several years, PCI is developing for MS products, RDBMS, AI/ML, data analytics, Big data, Digital Twins, Blockchain, tracking, manufacturing intelligence, and IoT Digitalization fault detection & many other areas. PCI has the world's largest collection of communications drivers for Microsoft, Google, Apple products on one end & various smart industrial devices, like PLCs, VFDs, scales, flow computers etc. on the other end.
Parijat's Domain Expertise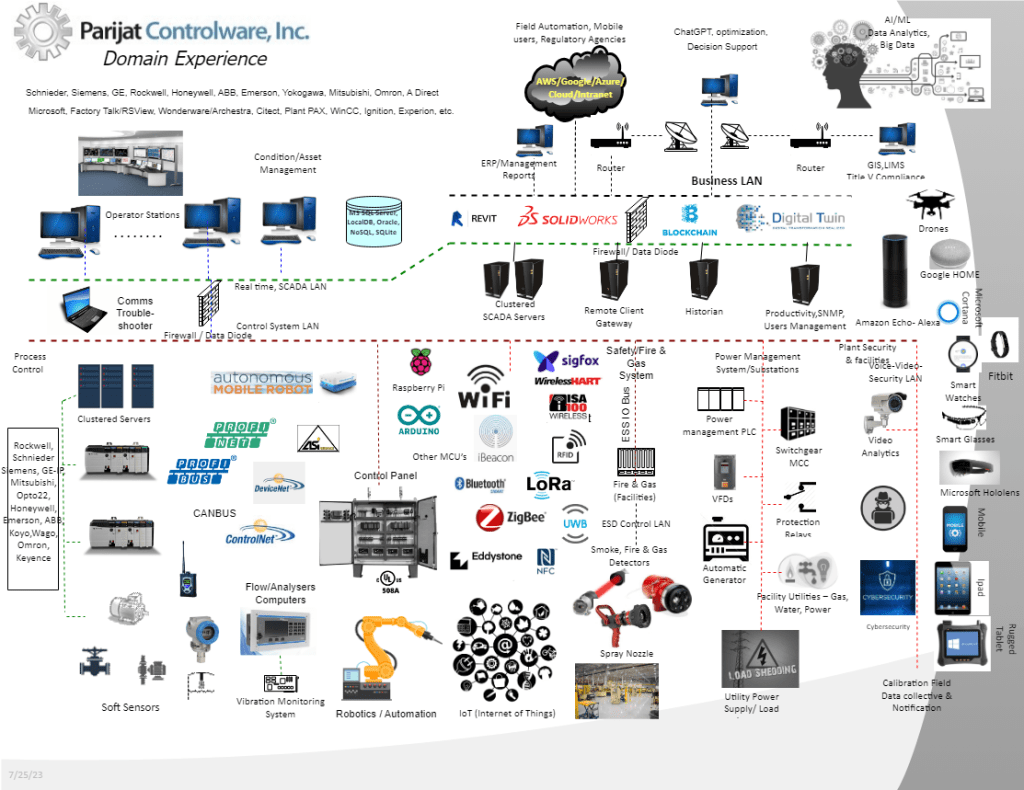 Hardware shortage, We are here to resolve:-
A shortage in the supply of control, communications systems Hardware affects every industry and this shortage had cascading and disrupting

 effects on their businesses. But many are overlooking a critical factor that can position their company for a much smoother ride through this turbulent period.
The reality is we're going to see more of these kinds of global supply chain disruptions in the future, and likely not only among PLC, DCS, IO modules, Automation system instruments, and other hardware.
The most successful companies Immediately head toward the possible solutions in this type of situation, effectively achieve the redesign, and give it a set of clear goals and incentives to deliver on the project. 
Parijat Controlware. Inc

 serving to set up, configure, customize, or program—Smart Solutions that are an alternative to existing hardware functionality systems.
The current scenario is due to which most industries are painfully affected and want some alternate solutions to continue their production and Automated systems. Although there's now a light at the end of the tunnel.

Parijat Controlware, Inc.

 provides these alternate solutions and efforts today and has helped many clients in this predicament.
We are having professional experts with years of expertise in providing solutions to all types of industries. We are having communication drivers, Software for all the Make and Models like Allen Bradley, ABB, Emerson, GE Fanuc, Hitachi, Honeywell, Mitsubishi, and Siemens from any communication protocol to the required Communication Protocol.
Parijat Controlware.Inc provides services for PCS, DCS, PLC, HMI/SCADA, Panel Integration and Relay Logic, Safety Integrated systems, Terminal Automation Systems, Batch Automation, Safety Instrumented Services, Tank Gauging Services, and Control Systems, Fire and Safety, Control Panels, Cyber security, IIOT, Cloud systems, and Database Management.
Parijat Controlware. Inc

 

team is continuously Implementing practical ideas that result in improvement in offering the best solutions and services. 
We build, wire, and commission electrical automated control systems.PCI has been designing , fabricating and installing custom control panels for 30 years.
Ability of creating custom drivers for your devices. We house many drivers including the most popular Modbus, Allen Bradley, and so many more…
Build PLC systems and HMI's based of your needs.  Ability of modifying and troubleshoot current systems. Also check out our in house open source HMI.
Some of the industries we serve!
NO MATTER WHAT INDUSTRY YOU ARE IN, PARIJAT CAN HELP.
Reach out to our experts with any questions or requests that you have. We return each and every communication within three business days.
Reach out to our experts with any questions or requests that you have. We return each and every communication within three business days.
[]
keyboard_arrow_leftPrevious
Nextkeyboard_arrow_right